Another creator, the Webtoon translator, armed with "ardent fan heart" and "writer's spirit"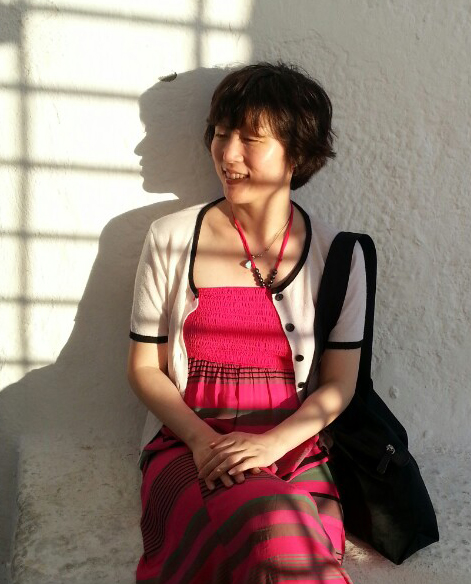 Webtoon has been recording explosive growth not only in South Korea, but also in South East Asia and America. Based on the popularity of the original works such as "Misaeng", "Cheese in the Trap", "Inside men" and "History of a dimwit", many Webtoon works are making a big hit through dramas, movies and musicals. KT Digieco forecasts that the domestic Webtoon market, with the scale of 100 billion won in 2012, will grow up to 500 billion won by 2018. Through this prospect, it is possible to estimate the explosive growth rate of Webtoon in the future.
The boom of Webtoon is equally substantial abroad. According to Naver Webtoon, 35 million people are registered as monthly users of Webtoon on the global level. 870 works have been provided in 27 countries including America, Indonesia, Thailand, Taiwan and Japan. The high recognition of performance and possibilities of Webtoon led to a separate operation of Webtoon business field lately.
Through a variety of platforms, Webtoon shows its matchless presence abroad as well based on the differentiated concept from existing "cartoon". Now it came into the limelight considered as the second content of Hallyu. For reaching the level, many efforts have been made by translators specialized in Webtoon. Today, we will listen to their stories from Hong Hee-yeon, Head of the Translation Division of SMARTOON.
Q. What brought you to the world of Webtoon and Webtoon translation?
Since I was little, I was a cartoon fanatic. I was literally "devouring" all types of cartoons, either domestic ones or Japanese ones. In particular, I was really attached to romance comics and I bought many of them to keep them as my property. For this reason, when I was offered a job in this field, I just accepted the proposal without hesitation.
I am in charge of translating the works presented through "SMARTOON", the Webtoon platform of "Rolling Story", the company providing global services and IP application. I am doing my best with the wish of introducing good works to many fans who love Korean Webtoon looking forward to the completion of translations.
There are some sad moments in life when it comes to cartoons. When we move to another house and are forced to leave the comic books of a lifetime collection, and when we want to read a certain comic book which we had great fun with but it is impossible to find it for being so old. However, in the times of "Webtoon", we can easily see all works online. It is easy to keep the books and find the cartoon we want to read again. I consider this the charm of "Webtoon" which contrasts with existing attributes of cartoons. For the same reason, I set my affections on Webtoon even more.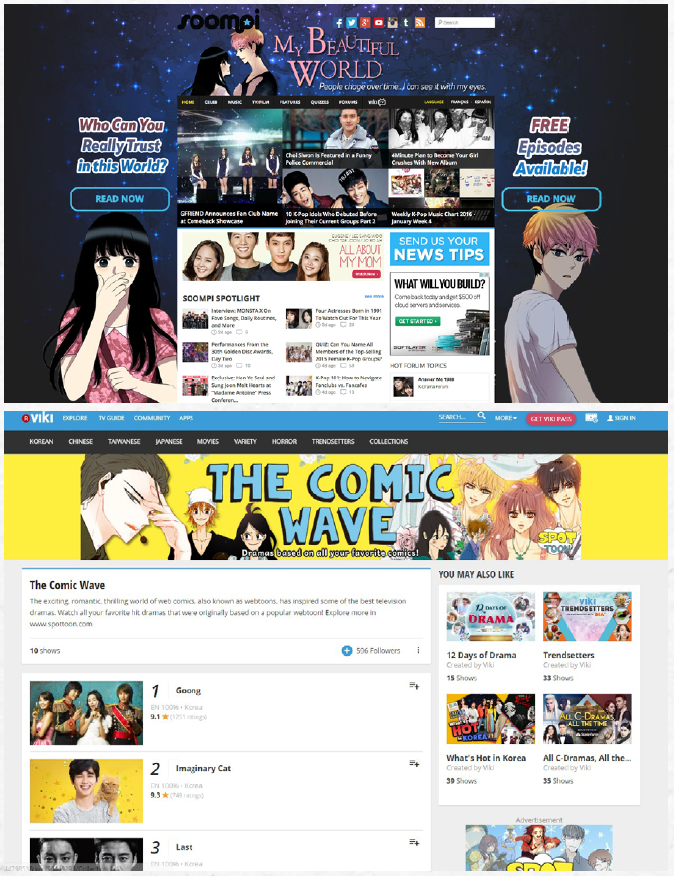 Webtoon works exposed to Soompi, the global Hallyu platform & Viki, the video streaming site focused on Hallyu content
Q. In your opinion, what could be the greatest attraction of Webtoon translation works?
We Webtoon translators use the expression "adaptation" rather than just "translation". When we remake a novel or Webtoon as a movie or a drama, it is indispensable to go through a process of a new creation. The adapter must thoroughly understand and analyze the story, plot and characters, and make various modifications to bring the biggest effects to a new genre while the charm inherent in the original work is highlighted as much as possible. To lead the readers of different cultural and linguistic background to feel the similar emotivity and fun to those perceived by Korean readers, it is very often that we should make a considerable amount of high-quality creation and adaptation. To emphasize this point, we use more the expressions like "adaptation" or "saying the lines" than just "translation".
When it comes to translation, in general, it has to be faithful to the original text then it takes care of the meaning and the last priority must be considerations of psychological effect arousal to the readers. But our pattern goes in the reverse order. Placing ourselves at the same line of the Webtoon creators, the most fundamental starting point for us is to seriously concern about "what shall we do to awaken emotivity and sympathy in the readers with respect to this story and these characters?" The process is hard and challenging, but it allows us to feel free to make diverse trials and creations, having fun while working. This must be the most attractive part in this work.
Q. What do you think is the most important quality as a Webtoon translator?
In the first place, we lay great stress on ardent passion and mania spirit toward comics. I can clearly tell you this because I learned it through experience that there is no good result in the end if the translator lacks this quality. Before taking up the translation, the translator should read the Webtoon work several times and has to build deep understanding of the story to such an extent as to have a heated discussion with the editor in charge about how the plot and chemical reaction among characters compose a story. We put lots of efforts into this process. I think this point makes our work different from that of translators of other areas.
Q. When do you feel most rewarded and when do you think is the most difficult moment? Why?
I feel most rewarded when the fans leave thank-you notes in the comments for having translated the Webtoon. The power of comments is just intense. Sometimes they make us cry and other times they make us smile.
The most difficult moment is when I take on some on-going serial works. Sometimes we go through a hairy experience. When there is a foreshadowing or a reversal (an unexpected development) which must be highlighted at the right timing, a good translation is made only when we are well-informed of the point. But once it was started without the previous knowledge, sometimes we have to completely modify the translation which was already done. Talking about the most difficult moment as a translator, it is when I have to give up selecting a certain work because I am not sure if I can fully vivify the fun through translation, though the cartoon is a real favorite of mine. When I give up this way, I sometimes feel regret for that. I do not stop doubting about myself and I also feel distressed about it. I keep thinking this way. "A good way must have been waiting for me once I had taken up the translation. Maybe I was too afraid to make an attempt of a work which was possibly supposed to be loved by many readers…. Maybe I gave up so easily."
Q. Among your translation works, please pick up five works you would like to recommend most to the readers of "Hallyu Story".
- Sensual M: It is one of my early works. There were so many difficult things to translate. In fact, it was the work we attempted to change the names of characters into the English style. The English title has been the issue of discussion for many days by the entire staff. As a result, we had to prepare a presentation to convince the writer (creator) to change the title and the names of characters in the Western way. This way, I could learn many things through this work. In effect, it is one of my successful works.
- Shall We Have Dinner Tonight?: This work delicately describes the changes of mind of characters and relationship through composed and quotidian conversations and events without any big dramatic composition or reversal. It was really difficult to vivify the details. Apparently indifferent and casual lines of dialogue insinuate many things and contain complex emotions. This was challenging for me. However, this work makes me feel rewarded because it has been receiving a positive response enough to be included in the category of "Most Viewed" among all works of SMARTOON.
- Mojin Tales: It was one of the most difficult works in terms of translation. But I was deeply fascinated with the charm of the work throughout the work period due to the beautiful drawings and mournful stories.
- Byrd and the Beast: This work is a sort of fantasy genre. Its title and the names of characters have been changed with most frequency. About this subject, I have constantly communicated with the Webtoon writer. In fact, the preparation process was complicated yet very interesting.
- Standing on One Leg: After many weeks of concern on the optimal way of vivifying the unique writing style and intonation of dialogues of a historic drama, I decided to try the English style of the times of Shakespeare. There has been some mixed reaction to this work. Some found it hard to read and irritating while others praised it for being the best translation ever.
Q. What advice would you like to give to people who dream to be Webtoon translators?
Other than the general virtues and qualities required for Webtoon translators, what is essential are ardent fan heart and professional writer's spirit. Webtoon writers make painstaking efforts to make readers laugh and cry and arouse sympathy in them. Webtoon translation is based on the result of such efforts. For this reason, it is indispensable for Webtoon translators to have a professional writer's spirit to adapt the work enough to make the English-speaking readers laugh and cry and evoke sympathy in them. This will finally bear good fruit.

성명 : Minju Kwon
약력 : Chief Editor of webzine 'Hallyu Story'