How many people are currently studying Korean around the world? The activities of "Talk to Me in Korean" team are matchless in the market in the sense that they keep producing textbooks of the Korean language reflecting the detailed concerns of the learners through Podcasts, YouTube, and a variety of social media. They are proud of the monthly page view of the site over 1 million views and the number of users accumulated up to 8 million so far, and are evaluated as the pioneer of the new world in terms of Korean learning.
There are more than 200 access countries, but over 90% of the content is provided free of charge. For some people, who lead an indigent life with low income to such an extent as to save a salary of the entire week to purchase a textbook costing USD 25, there is a person who practices "Freemium" allowing the Korean learning free of charge to satisfy their needs, making tireless efforts to create a more interesting and more effective learning environment of Korean. The protagonist's name is Sun Hyun-woo, the representative of "Talk To Me in Korean".
Q. You created and represent "Talk to Me in Korean". Would you like to describe yourself in detail?
There are two big elements which made me who I am now. They are "learning of foreign languages" and "content production". Since my childhood, I have been keenly interested in computers and the IT field, so I enjoyed creating and deleting Homepages repeatedly. My interest in the Internet was immense and quick all the time. In fact, I learned how to make video images and audio editing. Later, this knowledge considerably helped in producing the teaching materials on YouTube and Podcasts.
I tend to learn foreign languages quicker than others in general (He delivers all lectures in fluent English though he has never lived abroad). Learning foreign languages is just great. When you make a trip to Japan after learning Japanese, it is really good. Going to France after learning French improves the quality of your trip. I wish other people could enjoy this too. But I have seen that many people were at a loss as to how to start learning a foreign language. I thought there was no system to give methodical help to learners. For this reason, I wanted to teach them my skill or knack of which I made many foreign friends by way of foreign languages and how I broaden my horizon through this.
Since I was a high school student, back in 1997, via a PC communication, I started to work as a sysop (system operator) at an English conversation Club composed of more than 5,000 members. As well as the experience, I used to upload the know-how of learning foreign languages of my own or various stories to my personal Blog one by one and I enjoyed interacting with many people through frequent off-line gatherings.
Q. Among many other foreign languages, what was the motivation to focus on Korean teaching?
When I tell people that I am engaged in a business related to Korean education, most of them think that I took up this business after thoroughly having studied this field and finished the market research. Unfortunately, it is really hard to say that this field guarantees "business value" or "profitability". My approach was not focused on "making lots of money by leading the position in the Korean education field", but on "giving my hand as soon as possible" to the ones who wanted to learn Korean but could not find a proper place for systematic learning.
In effect, when I entered college, I could extend my interaction with foreign friends. They asked me some questions about Korean grammar or expressions and I explained them one by one. This was the starting point, I guess. I myself encountered many difficult moments while studying foreign languages, so I could perfectly understand their situations. I noticed that many questions were repeated and discovered that there were some "must tips" to learn Korean though the explanation was not included in their books. For instance, it is about a unique way of counting age practiced only in Korea and fad words or idiomatic expressions. I started to put them in order and uploaded them to my personal Blog since 2004.
Through the Blog activities, I had lots of fun and I also felt rewarded. My articles were introduced in the main Portal sites such as Cyworld or Naver, through which I could get to know many people with the same interests as mine. However, as time went by, it was inevitable that I started to feel limited in this mission. Because of the so-called "scroll pressure", people do not read a long text in general. Also, visitors should make efforts to spare time to visit the Blog to read the text. In 2008, I began to prepare a project in the form of a company. Under the goal of making a Korean learning brand by way of videos, with some acquaintances, I started to create content entitled "Talk To Me in Korean" in 2009 and uploaded it to Youtube and Podcasts at the same time. Only 6 months after the creation of the site, the subscribers rapidly increased up to about 20,000. Without doubt, all contents were free of charge. It was because our goal was with "helping people who eager to learn Korean" and not with "making money". This value is what all our staff members agree upon and want to keep in the future as well.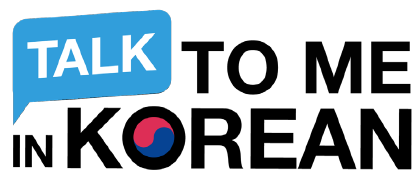 Q. What process are the foreigners taking up the first course of "Talk To me in Korean" supposed to follow?
The grammar lesson, which serves as the frame of the whole curriculum, is composed of 10 different levels. Each level constitutes 30 lessons and each lesson has 1 Audio file of 5-6 minutes and 1 PDF textbook. The 300 Audio files and 300 PDF textbooks are open free of charge to anyone who shows interest in the program. In the beginner's level, they will learn "How are you?" and "Thank you". At the fifth course, the verb "to like" will be taught and the past tense will be added. Reaching the Level 5, they will learn "I might + verb" form. While the learners continue with the course, the learners feel the need of a place to apply the accumulated knowledge. Unfortunately, it is not possible for us to carry out a real-time video education, so we offered 15-minute-long recording files in which 2 teachers talk about a particular topic at a relatively slow speed. They are the very "Story series". By recording all the conversations, we made 150 Audio files and teaching materials for free-of-charge provisions. They are really popular. By strengthening some complementary contents and adding exercises to 2 units of "Grammar lesson" and "Story series", we finally published a book. Many learners are buying the book.
Additionally, while operating social media such as YouTube, Instagram, Tweeter and Facebook, we constantly provide the contents, 3-4 units per week, which guide them to continue with the enjoyable study of Korean. Some learners can forget about the learning mission, but when our alarm message appears in the social media window like this, "Don't miss the Korean study. Do come back!" they are motivated again. The reason why we use social media is not for increasing view hits or obtaining advertising revenue. In fact, profit is enough only with the sale of teaching materials like e-books. Anyone who learns Korean through our contents of social media can reach our goal of "teaching".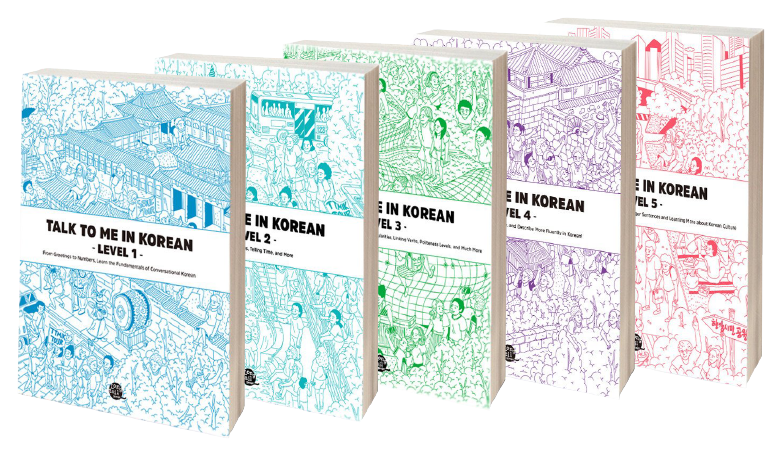 Q. When it comes to teaching the Korean language, it was even possible to use existing teaching materials or receive advice from Korean majors. What is the reason for the creation of your independent content?
Of course, there were many published books in the market. There was the so-called "boom of Korean instructor certificate" too. Without any help of this kind, we succeeded in developing all contents and educational curriculums on our own. When it comes to Korean learning, I am confident that the curriculum of "Talk To Me in Korean" is the most outstanding one. It is because we conducted in-depth research thoroughly from the perspective of learners. When we observe the traditional teaching materials written by "Korean education scholars", it is easy to confirm that the approach method itself is really different to such an extent as to clearly understand that the writers have never studied foreign languages at all. I think that the book entitled "Korean grammar for foreigners" is also far from consideration of foreigners. Our team members have made many efforts for a long time to study foreign languages including English. One of the compliments we receive all the time incudes the comment, "How come you read my mind and have already prepared this?" It was possible because we tried to analyze the situation always from the perspective of non-Koreans. The learners perceive that all our efforts are reflected in each lesson we elaborated on. Many things that are taken for granted from the perspectives of Koreans turn out to be basically different from the perspectives of speakers of English, Japanese and French. For instance, if a question about the difference between "Beolsseo" and "Imi", both meaning "already" is asked to Koreans, I bet there must be very few people who can answer with precision. According to our analysis, while "Beolsseo" connotes an element of "surprise", "Imi" is about something that both the speaker and the listener previously know. We have made tireless efforts to understand the difference between "Eeoriltae" (when young) and "Eeoryeotseultae" (In my childhood), and between "Joahan" (something I liked) and "Joahaetdeon" (something I used to like). Based on the reflection, our methodology excels in the differentiated capacity of teaching Korean in English, the language our learners can precisely understand.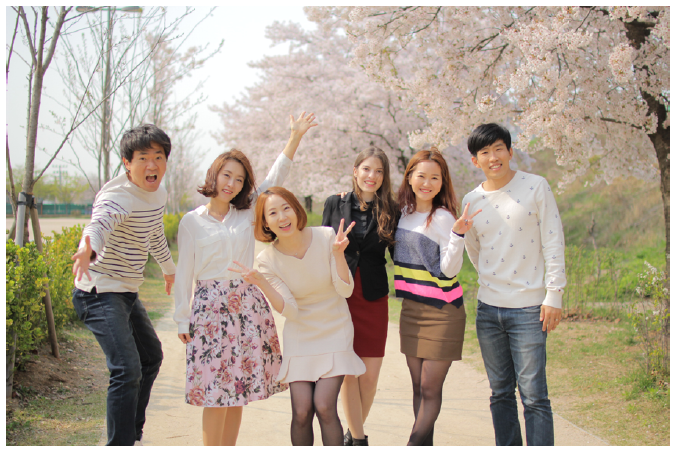 Q. It is believed that people from many countries use the program. It is very popular to Hallyu fans as well. Tell us about the students of Talk to Me in Korean.
Thankfully, we are loved by many countries. The highest rate is with America, registering 26%. From South Korea, 14%, from the Philippines, UK and Canada, 4% respectively and from Singapore, 3%. Apart from the mentioned countries, there are people who eager to learn Korean at every corner of the world to such an extent as to cover the other 45% in 190 countries. It is our judgement that English will not miss out on the top spot as a world common language in the future, so we intend to keep teaching Korean in English to help as many people as possible.
There were also latecomers but the influences were matchless since we have been producing a tremendous amount of materials through a wide range of media for the last 8 years. Actually, the official download number of e-books on YouTube and Podcasts exceeded 100 million. We assume that the untraceable record will be a lot more.
Through some events like KCON, we sometimes have an opportunity of meeting our students in person. For them, it is really meaningful to meet their Korean teachers for real. While giving lectures and operating the booth, I am invited to take pictures with them. They often ask my autograph too. We can sense that they are deeply thankful to us, so we are positively encouraged too.
Last year, a famous American broadcaster Conan visited Korea. When they were filming an episode of his Korean learning, our textbook was revealed by chance. There was no previous contact about this issue and we never sponsored it.
In the "Books on Korea" section at large-scale bookstores in our country, our teaching materials are displayed in the most eye-catching area. Whenever I have this kind of moments, I am proud and full of a feeling of achievement. It comes to my mind that "we are naturally number one when it comes to the Korean education".

Q. I see that you are full of conviction and confidence in the Korean education field. There are so many things that Talk To me in Korean have achieved so far. What are your future activity plans?
I am convinced that "no one else will teach Korean better than our team". Through my experience, I could notice that no teams have exerted every effort to create top-quality products and distribute the materials free of charge the same way we did. At the government level, "King Sejong Institute" is surely showing good results along with many specialists around the world. However, the private sectors like our team also have a different role in this mission.
We have put efforts into filling in the blanks no one has treated so far, but we still find there are many blanks left to fill in. Among our e-books, there is a book called "Parenting Phrases in Korean". This was published after 1-2 months of preparation as soon as people gave us the idea. Once we think something is essential, we are able to publish it. However, in the category of "parenting", the range is just so broad. For example, parenting aiming at children aged 3 and 5, as well as elementary school students, etc. For this reason, there are infinite duties we will have to fulfill in the future.
Designed for the learners who concern about how to study foreign languages, we also release some paid products like "Study Planner". When we release this kind of products, more than 95% of our learners react this way, "I really needed this. Thanks for making this item", and not reacting this way, "they just want to make money again out of this". I am thankful to their support and I gain strength too. What we pursue is "education" and not "entertainment", so we keep concerning about finding the best way for our students.
About 5 books are published a year. As the further step, we would like to build a "school" and we are planning to put it into practice. While we give lectures based on the curriculum of "Talk To Me in Korean", we also want to compete offline with other Korean language institutes or academies. I mean, we talk at the teacher's lounge for a while watching TV, and we enter the classroom when the bell rings. Having lunch outside… I mean this kind of natural offline setting. We would like to build the coolest school of the world to go to learn the Korean language. Why? Because students froze their lives back home and came to Korea to learn the language in person. We must make a return for their dedication with fun and effectiveness.

성명 : Minju Kwon
약력 : Chief Editor of webzine 'Hallyu Story'